In the process of growth, a child needs and also desires time to spend with parents. Nowadays, however, most families scarcely see each other.  Parents are mostly at work while the children are at school. This often breaks the relationships if some other provisions are not made to be together. Having a trampoline with right trampoline pads will help bridge this widening parent-child gap.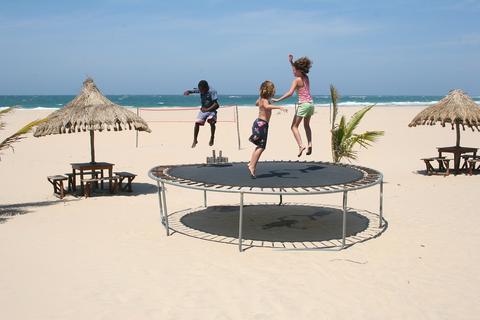 Exercising on a trampoline will not only create a great bond with the family. It is also an opportunity to improve the athletic skills of the kids. Bouncing will help them have balance, and it will greatly help, especially if they want to do sports like skateboarding, snowboarding and surfing.
A Study carried out by National Aeronautic and Space Administration (NASA) revealed that at least ten minutes exercise on a trampoline is a better option of a cardiovascular workout than 33 minutes of running. It further states that "for similar levels of heart rate and oxygen consumption, the magnitude of the biomechanical stimuli is greater with jumping on a trampoline that with running".
Making a Smart Choice
Making a choice of the most suitable trampoline for your family use will require you making some important considerations, some of which are:
The number of kids (or users) that will be accessible to use the trampoline. It is important to consider both the short term and long term goals of your family's investment. It's also critical to consider how kids (or parents) will be using the trampoline most of the time.

The ages or average age of the kids and how soon they may outgrow the cravings or use of the trampoline.

The shape and size of space available for setting up the facility. Round models tend to provide its jumpers with a softer and deeper bounce, the rectangular shape gives a firmer and stronger bounce, while the oval and octagon hybrid shapes are not as common and are similar in features to their round counterpart.

Safety, this entails the safety measures put into the production of the trampoline, your ability to heed the manufacturer's instructions, and the presence of an instructor when kids use it.

The desired elasticity of the bounce mat. The kind of bounce that will excite an adult may be too dangerous for a kid to handle.
These considerations will help you choose the most suitable trampoline for both adult and children use.
Many brands of trampoline include a handlebar, which makes it easier to keep one's balance throughout the workout. A mini jumper trampoline is designed exclusively for kids, so this does not encourage a parent-kid workout.
If you desire a great way to connect with love ones, to have fun and get lots of amusing exercise, then a trampoline is exactly what you need. Consider your needs judiciously and be sure to make the perfect choice for your family. Finding the best trampoline doesn't have to be a chore. Our trampoline specifications and guide will help you find the right model for your needs and your budget.
https://www.airtrampolines.com/wp-content/uploads/2016/10/trampoline-on-beach.jpg
320
480
AirT Staff
https://www.airtrampolines.com/wp-content/uploads/2016/10/logo_transparent_background-e1476323542860.png
AirT Staff
2016-07-10 15:40:09
2016-10-27 03:48:25
Trampoline – The Parent Kid Connection