The 10 Foot Trampoline
The 10 foot trampoline diameter is a common size for the family with young children. However keep in mind it is important to always have an adult present to supervise your children.  At the same time, the 10 foot trampoline is a mid size trampoline and  fits in most back yard spaces. The 10 foot diameter  generally has a jumping diameter closer to 8 feet because of the space needed for springs and the frame. Accordingly, one person at a time on the trampoline provides plenty of room to jump and play freely.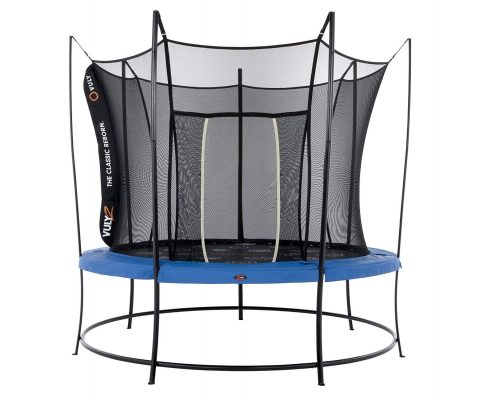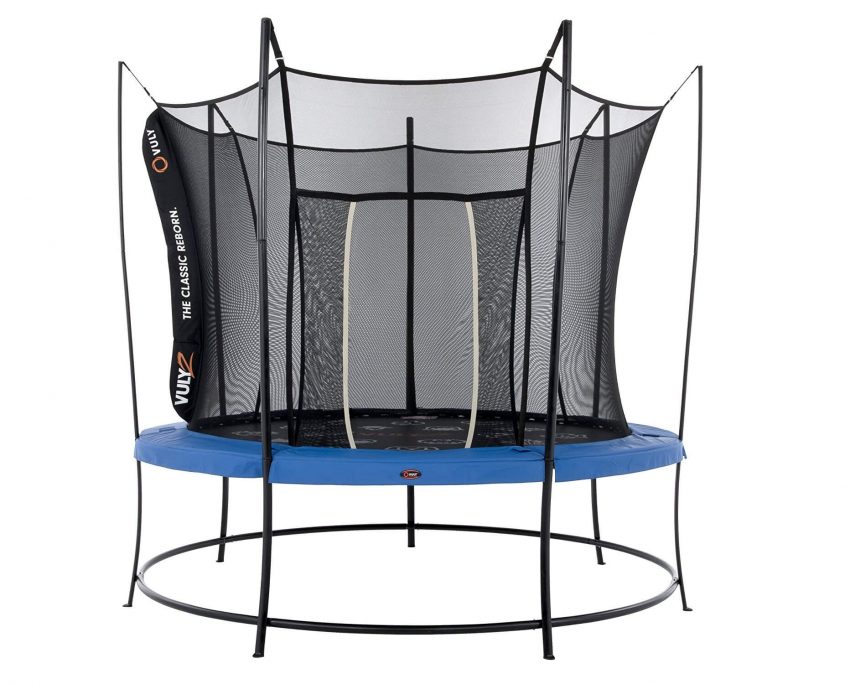 A good example of a quality 10 foot trampoline is the Vuly 2 with a weight capacity of 331 pounds.  Accordingly, even though this is a mid size trampoline adults will have confidence jumping and exercising on a 10 foot trampoline. The actual jumping mat diameter for the Vuly 2 is 8 feet 4 inches. Again, this allows for the springs and frame as part of the total 10 feet diameter of the trampoline. This particular 10 foot trampoline also uses 6 safety poles to hold up the safety net enclosure. Accordingly, the advantage here is the increased stability and ability to safely catch an off balanced youth or adult before they fall off the trampoline.
The Vuly Thunder Medium (10 Foot) Trampoline with Leaf Spring Technology
Engineering and Technology have created new products at a faster rate than at any time in history.  Many of these products have made our lives safer and more comfortable. In the case of trampolines springs around the diameter attached to a frame have been the standard design. However, recently the Vuly Trampoline company introduced a leaf spring design that is available in their Vuly Thunder trampoline – including in the 10 foot, Medium Vuly Thunder. The most distinct safety feature is the elimination of the springs and hard frame. With this new design the days of falling into the springs or onto the hard frame are gone. The leaf spring technology  also increased the ability to fly higher on each jump.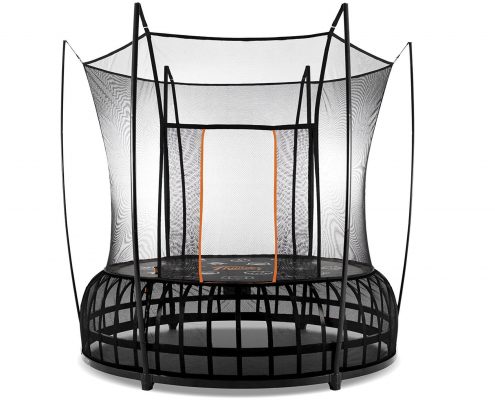 Finally, the versatile size of the Vuly Thunder Trampoline makes it a good choice for all ages. However it is extremely important to study the weight limitations for each brand. Also, check closely the quality of materials in the safety net, the number of poles holding the net in place  and the quality of the trampoline mat along with the frame construction.
https://www.airtrampolines.com/wp-content/uploads/2016/10/Vuly-2-Door.jpg
1500
1500
Brent Coles
https://www.airtrampolines.com/wp-content/uploads/2016/10/logo_transparent_background-e1476323542860.png
Brent Coles
2017-03-21 19:16:58
2017-03-21 19:22:30
The 10 Foot Trampoline is a Safe Trampoline for Children and Adults