There are many 14 foot trampolines to choose from on the market today. One reason for their popularity is they clearly are large enough to work for a family.  However, the first question usually asked is should I buy round or rectangle?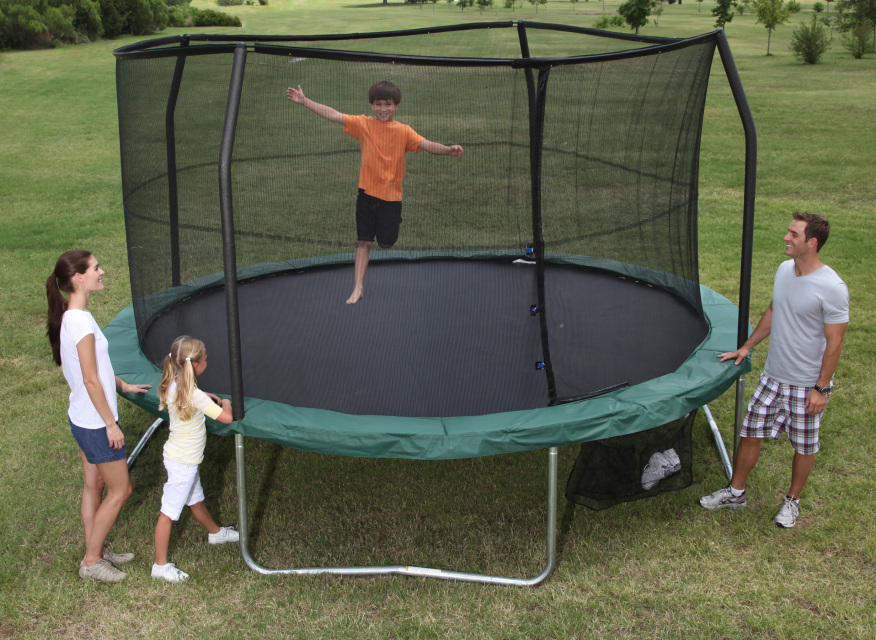 Advantages of a Round 14 Foot Trampoline
Round 14 foot trampolines are very popular as the backyard family variety. One of the reasons is the inherent safety of the circular design.   It may surprise you to find out that each jump on a round trampoline is designed to send the occupant back toward the middle of the jumping mat. Accordingly, when there are young children jumping it is easy to observe that they will tend  toward the middle. This helps keep them away from the  springs and the bars of the fame. It is becomes obvious that for the recreational user, young or old, the round design provides for a lot of fun.
The actual jumping area for a round 14 foot trampoline is usually closer to 12 feet. This is a result of the area needed for the springs and the frame. Arguably, this is another reason the 14 foot trampoline is a popular size. There is one company that has designed a leaf spring system that allows for a larger jumping area their trampolines. The Vuly Thunder XL 14′  trampoline provides a jump mat diameter of 12'7″.
Advantages of a Rectangular Trampoline
The rectangular models allow the jumper to have more control of their direction. Professional athletes will use the rectangular model as a training apparatus. The rectangular design also propels the jumper higher. Accordingly, this design can be good for the young athlete when a guided training routine is provided. It is also very important to study the weight limitations for every trampoline you consider. For example the Magic Circle 9'x 14′ trampoline has a weight limitation of 450 pounds. Conversely, the JumpSport 10'x 17′ limits the jumping weight 225 pounds. However, because it is important that only one person should be on the trampoline at one time each model is appropriate when used properly.
In conclusion it is very important that you first determine the purpose of your trampoline. Then spend time time studying the specifications for the many models that are available. While size and shape are important so are the details of weight limitations, the materials used in construction and the guarantees.
https://www.airtrampolines.com/wp-content/uploads/2017/03/s156991173356825301_p15_i1_w640.jpeg
640
876
Brent Coles
https://www.airtrampolines.com/wp-content/uploads/2016/10/logo_transparent_background-e1476323542860.png
Brent Coles
2017-03-20 16:34:51
2017-03-20 16:38:08
Round vs Rectangle 14 Foot Trampolines