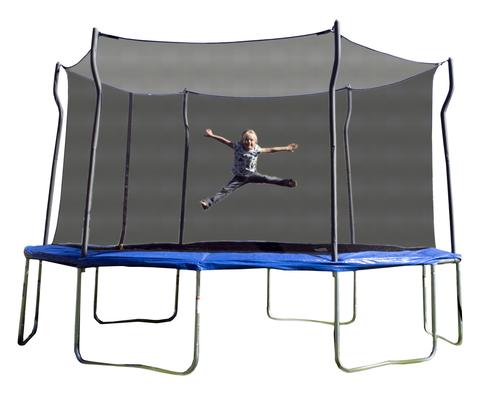 The propel 14 foot trampoline with safety enclosure is a trampoline that users either love or hate it for very simple reasons. Overall, they say their kids love it and it is very inexpensive. The other half of the users that had a bad experience said this trampoline came with missing springs. We recommend, however, for only $50 more, you get the Propel 15 Foot Trampoline which got excellent reviews. Below, I will give you a summary of all of the customer reviews for the propel 14 foot trampoline.
User Reviews for Propel 14′ Trampolines
Pros:
Frankly, the people who loved this trampoline just said in their review "Great! Kids loved it!" and "The kids love this trampoline. The only issue was the box arrived torn and one of the springs were missing. Otherwise, this would have been a five star review."
Cons:
All of the users that rated this trampoline low, rated it so low because it was missing parts. Most of the people put the entire trampoline almost fully together or spent a few hours trying to assemble it just to find out it was missing a spring… or four springs. I'm sure the manufacturer has since fixed this issue, however, if you would rather be safe than sorry, you should check out the 15 foot trampoline that has all positive reviews.
Final Conclusion
Our final conclusion is to just get the 15 foot trampoline.  The 15ft trampoline is only a few dollars more and it received way better reviews. No one complained about missing springs or parts with that one. As always, with any trampoline purchase that you make, make sure that you talk to your kids, grandkids, and their friends about the safety rules when jumping on a trampoline.
---
---
Common Questions
Q: Does the propel 14′ trampoline come with a spring stretcher?
A: No, however, many other people have used another spring to stretch the other springs which worked very easily or some purchased a spring stretcher separately.
Q: What is the weight limit for this trampoline?
A: 275 pounds
Q: Can it be left out during the winter and is it rust resistant?
A: Users have stated that they leave this trampoline outside all year long and have never seen any rust and the anchors have never failed. (One person had the trampoline for 2 years).
Q: Does this trampoline come with a ladder?
A: No it doesn't.
https://www.airtrampolines.com/wp-content/uploads/2016/10/propel-trampoline-14.jpeg
395
480
AirT Staff
https://www.airtrampolines.com/wp-content/uploads/2016/10/logo_transparent_background-e1476323542860.png
AirT Staff
2016-08-21 20:50:35
2016-10-25 05:57:33
Propel 14 Foot Trampoline with Enclosure Review