Who is Vuly?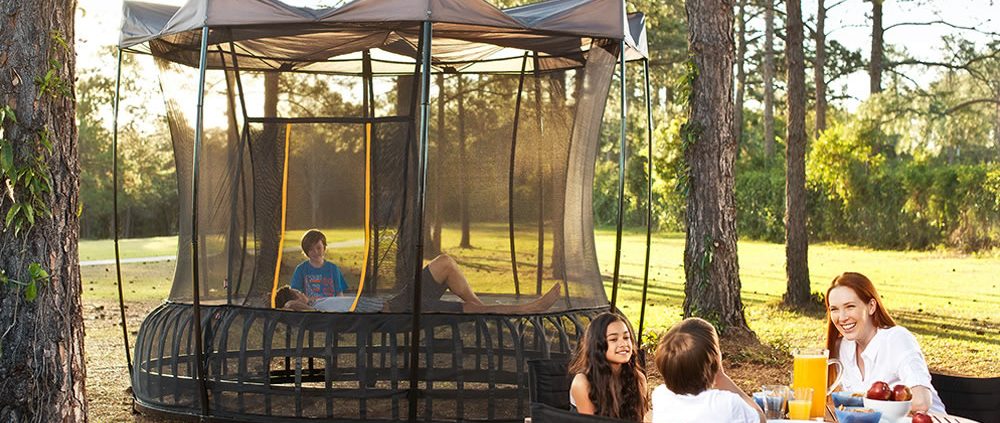 Vuly Trampolines is a true innovator within the trampoline industry and sets itself apart from your standard backyard trampoline. Vuly started in Australia and now is licensed and distributed by Spin Master here in the United States. Vuly makes the Vuly 2 along with the Vuly Thunder trampolines.
This is the first part, in a multi-part info series on the brands we carry here at AirTrampolines.
Vuly trampolines have a wide range of affordable prices starting as low as $550 for the Vuly 2 moving upwards to the Thunder XL which sells for nearly $2,400. Along with stable and innovative trampolines Vuly also makes trampoline accessories including an attachable basketball hoop set, skate decks, and vuly anchor kits.
Vuly has truly set the bar in the trampoline industry receiving various awards for their cutting-edge design. This is not your parents' trampoline!
A Little Vuly History
Vuly Trampolines was originally founded as Trampolines Australia by Joe Andon in 2007. Andon, an aspiring entrepreneur, was only seventeen years old when he boldly took a risk and started what would eventually grow into Vuly from his own bedroom.
Andon's Trampolines Australia was born in 2008. In 2009 Andon's company was growing so they built the future Vuly headquarters in Wakerley. The company sought to change their name from Trampolines Australia to Vuly in 2010. The name Vuly originates from the mythological Roman god of fire. The company's name change was also an effort to increase international awareness, specifically to market Vuly products in the United States.
In the same year Vuly released the Vuly Classic which would serve as a standard design to be remodeled and increasingly innovated moving forward. The Vuly Classic still sets the bar for safety and strength today with trampolines.  By 2011 Vuly was expanding rapidly across Australia and their trampolines could be found in over four hundred retail stores. The next year Vuly finally was able to break into the international markets with global retailers selling Vuly trampolines.
The Vuly Thunder emerged in 2013 which would turn into a staple product for the company. The aftermath of the Vuly Thunder release was a huge step for Vuly as the trampoline was distributed to the global market. In 2014 Vuly teamed up with Toys R' Us and opened their first office in the United States. The following year Vuly began being licensed and distributed by Spin Master.
In less than decade Vuly has established itself as an innovative brand within the trampoline industry and accompanied their growth and success with various awards. Various accolades for Vuly's accomplishments include a Good Design Award for the Vuly Thunder in the Sports and Leisure category at the International Good Design Awards in Sydney along with the Best Mid-Market Innovator award in 2014 at the BRW/GE Capital Mid-Market Awards.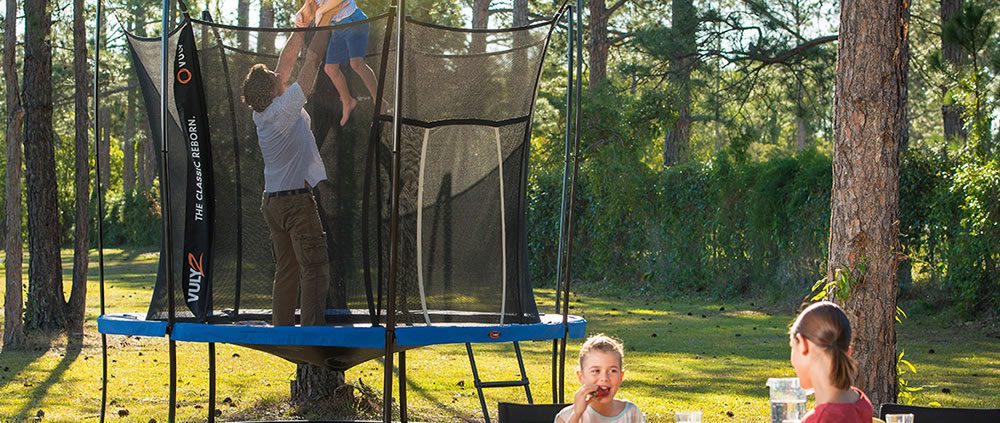 One of Vuly's top products is the Vuly 2 which is a fresh and innovative take on an old classic. Vuly 2 ranges in size from the smaller 8 foot Vuly 2 to the large 14 foot Vuly 2 depending on your family's needs. The trampoline is enclosed with a 'Goldilocks' mesh net made of silk Terylene material. The crash-proof safety enclosure allows for safe and lasting fun while you bounce.
Vuly 2's up-down tapered springs result in a great bounce. The frame is grounded, tough, and resistant to rust. There absolutely no nuts or bolts so the assembly of the Vuly 2 is completely stress free. There is a two ring click together solid frame for the base. With absolutely no spring access you do not have to worry about the danger of landing hard on those old trampoline coils again. Vuly 2 comes with soft protective padding which is reversible, weather-resistant, UV resistant, and spring-covering.
Stretched out across the frame is the Vuly HexVex game mat which can be used to bounce on and play imaginative games. The durability of the Vuly 2 is unprecedented and matched by a unique innovative design. When you purchase a Vuly 2 you will receive the rust-resistant, two ring click together frame, a Vuly HexVex game mat, the innovative safety enclosure, and the shipping is totally free! Another plus is the product is made entirely in the U.S. and affordable with a warranty included.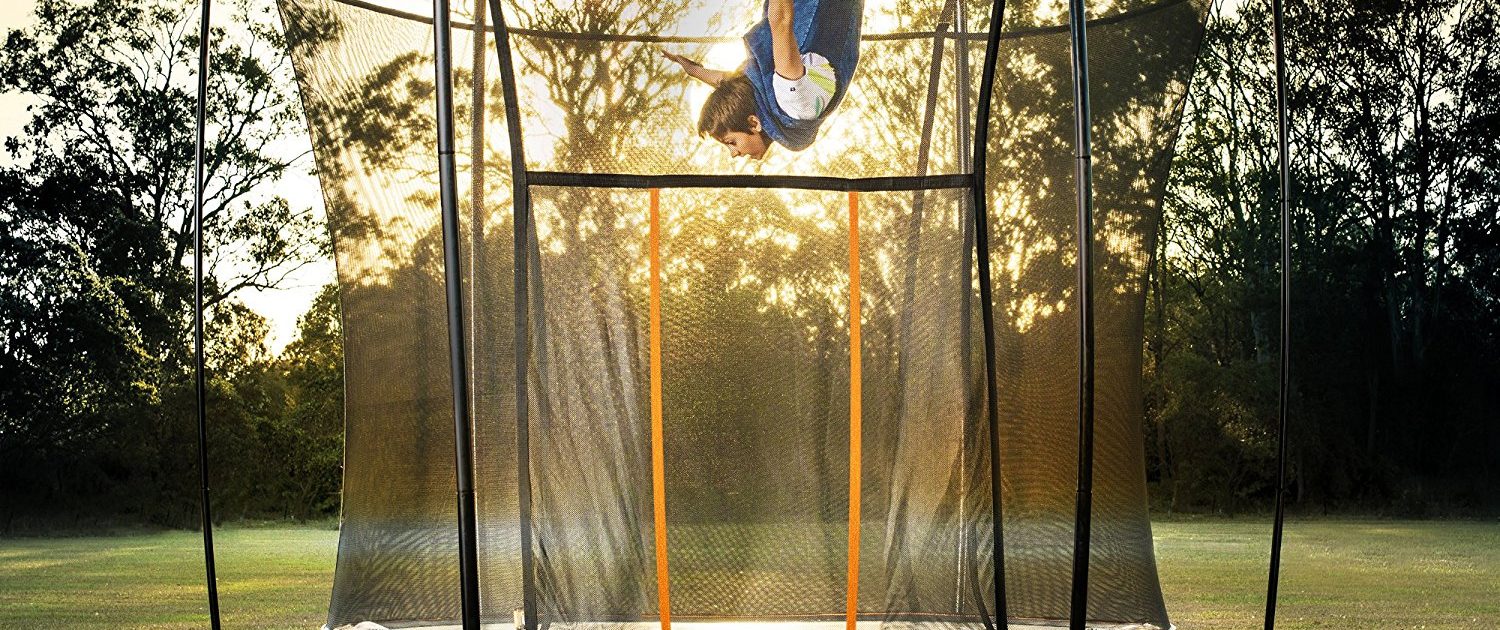 The Thunder by Vuly is a trampoline that incorporates innovative technological design to separate itself as world class trampoline. The Thunder is the only trampoline available which utilizes Leaf Spring technology which is breaking ground in the trampoline industry.
Leaf Spring technology is technology that means no coil springs to get caught in or no frame to land on. Using this technology coupled with a mesh safety net creates a safer bounce. With no landing on coils and a custom safety enclosure this will ease parent's minds as kids can jump safely for hours.
The trampoline comes with an uber strong, rust resistant, and uniquely shaped dual frame. This frame is truly a jump machine! The Thunder's frame is long lasting and resistant to scratches, cracks, and rust which increases the trampoline's durability and longevity. The Vuly Thunder ranges in size from Medium to the huge XL. The Vuly Thunder Medium is 10 feet in diameter while the Thunder XL comes in at a whopping 14 feet in diameter.
When purchasing the Vuly Thunder you will receive a jump mat, Leaf Spring technology increasing safety and comfort, a safety mesh enclosure, and the jump machine frame. This trampoline is perfect for backyards and for those searching for a durable, fun, and safe way to experience fun with friends and family. The Vuly Thunder will have you jumping for joy!
Vuly as an Innovator

What sets Vuly apart as a trampoline company is their commitment to innovation. The company uses fresh and cutting-edge technology to change a traditionally dangerous backyard activity to a new and safe way for people to have fun. Whether it's through developing Leaf Spring technology in the Vuly Thunder or reinventing the classic trampoline to look sleeker in your backyard, Vuly's innovative spirit has made jumping on the trampoline fun, comfortable, and safe. All while looking good!
Check out our AirTrampolines Store, where we offer the best prices on the web for JumpSport, Magic Circle, and Propel trampolines and accessories.
https://www.airtrampolines.com/wp-content/uploads/2016/10/Vuly-Category.jpg
500
500
AirT Staff
https://www.airtrampolines.com/wp-content/uploads/2016/10/logo_transparent_background-e1476323542860.png
AirT Staff
2016-10-25 02:52:19
2016-10-25 05:49:16
Brand Profile - Vuly Trampolines