Propel Trampolines is a trampoline manufacturer that is based in Logan, Utah. Propel Trampolines has built and sold thousands of trampolines through larger stores and through online retailers. The brand is one of the low cost leaders in the trampoline industry. The trampolines are made in China and distributed through retailers or over the internet.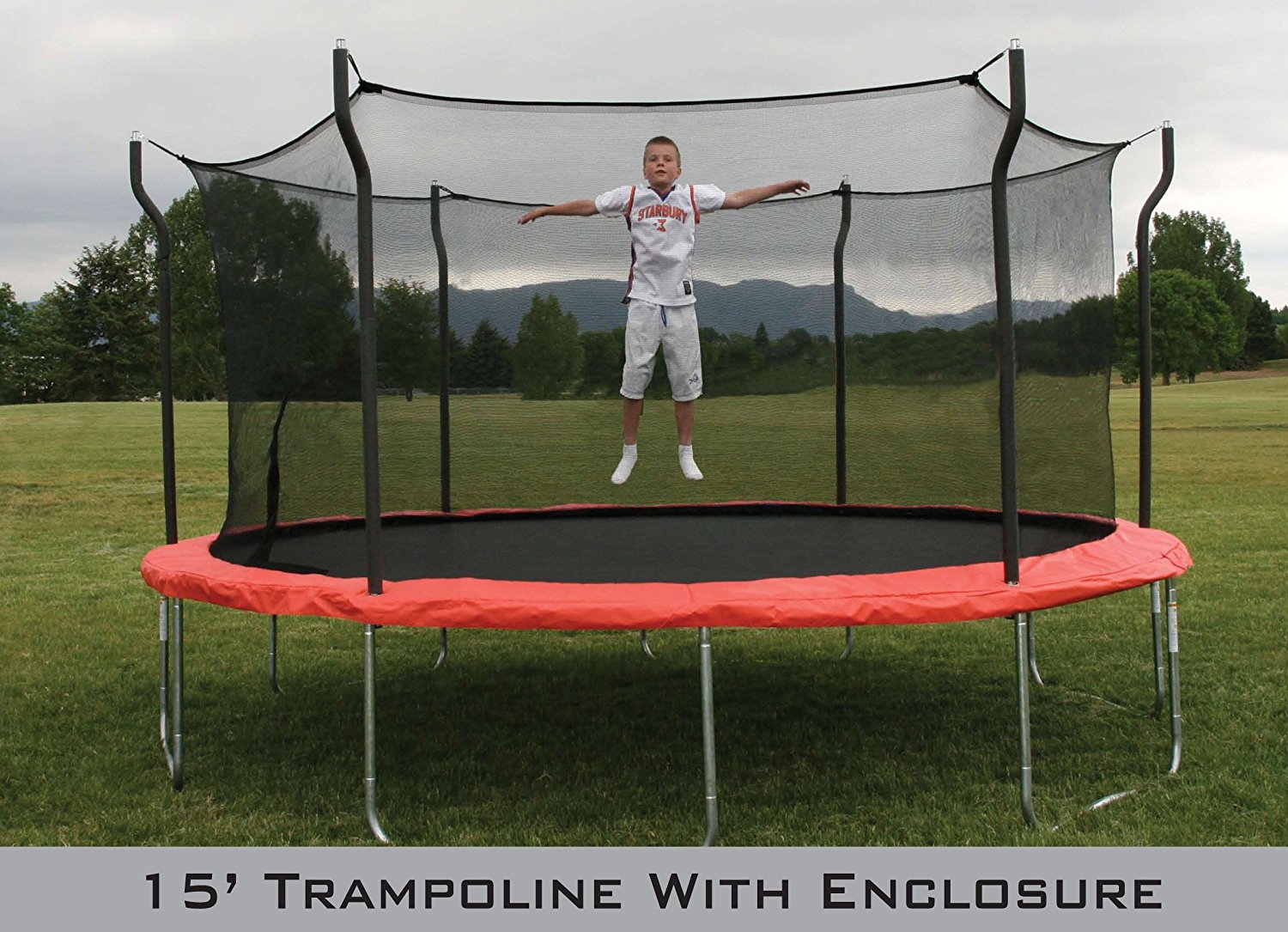 What Sets Them Apart
Propel trampolines is unique in that they provide a low cost alternative to other designed brands within the industry. They manufacture not only trampolines but trampoline accessories too. These accessories include a basketball hoop, club house tent, ladder, a mist sprayer and a trampoline anchor kit. The trampolines vary in size from as small as seven feet to as large as fifteen feet. They also offer a club house enclosure for safe and kid friendly fun! Propel Trampolines build affordable trampolines with enclosures starting as low as $300 for a twelve foot trampoline to $500 for a fifteen foot trampoline.
Propel builds a variety of trampolines that can help meet whatever your exercising or recreational needs may be! Kids will love the ability to play, jump, and exercise safely with a fun and affordable trampoline built with a safety enclosure. The low cost trampolines made by Propel Trampolines allow kids the freedom to have fun while giving parents a peace of mind knowing there is a safety net while the kids jumps.
Kids Trampolines by Propel
Propel Trampolines makes a seven foot trampoline with enclosure. This yellow and black trampoline has a diameter of seven feet and includes a safety net. This trampoline has a sure lock safety pad. The trampoline comes with a durable steel frame built for longevity. This frame is stabilized with a whole t-bracket system. There are forty steel springs to help with a better bounce. There is a 150 pound weight limit on this trampoline for safety. At an affordable price the trampoline is a good fit for a backyard yet small enough to bring inside the house when the weather turns cold!
The Propel 8 foot trampoline with enclosure is a great trampoline to be used either inside or outside. This Propel Trampoline is made with Ultra-Smooth bounce technology. They also contain an Impact-Absorbent Enclosure System for safe and contained fun. The Propel 8 foot is a blue trampoline that comes with a Sure Lock Safety Pad. The frame of the trampoline uses a T-Bracket System for stability and is built with solid steel. The safety enclosure is included along with 48 steel springs. The weight capacity for this trampoline is 175 pounds yet can still fit inside the house!
Propel's Larger Trampoline Offerings
The Propel 12 foot trampoline with enclosure is a trampoline that is large enough for the whole family. This trampoline is twelve feet in diameter and the Impact-Absorbent Enclosure System is included for a safer bounce. The Propel 12 includes a sure lock safety pad. The T-Bracket System is used to stabilize the frame of the trampoline. The frame is made entirely of steel. This trampoline includes 72 steel springs with a purchase. The Propel 12 has a weight capacity of a whopping 250 pounds equipped for multiple persons!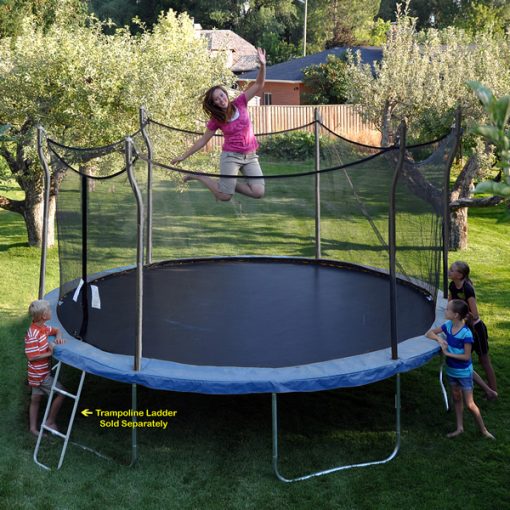 The Propel 14 foot trampoline with enclosure is a huge trampoline fit for the entire family to jump on. This trampoline has a large diameter of fourteen feet which gives the ability for friends and family to have hours of endless fun. This trampoline is a new take on a classic favorite made with a sure lock safety pad, solid steel frame, 90 steel springs, and T-Bracket System for frame stability. The trampoline comes with the Impact-Absorbent Enclosure System included for safe and fun jumping.
The Propel 15 foot trampoline with enclosure is the biggest trampoline made by Propel. The diameter of this trampoline is fifteen feet long which allows for multiple jumpers at one time! The Propel 15 comes with a safety net included with the trampoline. This is for safety when friends and family are jumping together. There is a sure lock safety pad along with a T-Bracket frame system. There are 96 steel springs for jumping ability. Propel 15 has a large 300 pound weight limit!
Propel Accessories
Propel Trampolines not only creates affordable, durable, and safe trampolines they make a wide variety of trampoline accessories. A great addition to your Propel Trampoline is the Propel Club House Tent. This is a tent that goes over the top of the trampoline to give a roof for kids to play in. This tent is a one piece assembly that drops over and ties to the trampoline. There is a zippered privacy entrance to the tent and the tent has three screen windows with adjustable covers. The tent comes equipped with weather resistant walls to keep bad weather from the inside of the jumping area. There are rough troughs that have the ability to channel light moisture for drainage.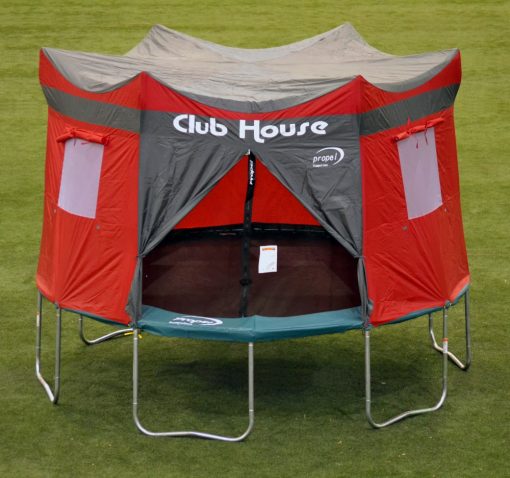 The Propel Club House Tent only fits the Propel 12 foot, 14 foot, and 15 foot trampolines with 6 enclosure poles. Propel Trampolines makes the Jump-N-Jam trampoline basketball hoop. Kids have the ability to play basketball and slam dunk while jumping on their trampoline. The hoop attaches to the enclosure and enclosure pole to enhance the level of exercise and play from a Propel Trampoline. The Jump-N-Jam hoop has a ten inch safety flex rim along with a sturdy backboard. A ball and pump are included with the basketball hoop! The Jump-N-Jam hoop is made for Propel Trampolines but can fit onto other select trampolines. Propel makes a trampoline ladder which allows for easy access onto the trampolines.
Propel trampolines do not need a ladder although the ladder can be a helpful accessory. This ladder is for kids that are under 150 pounds. However this ladder is not made for children under six years of age. The ladder can be bought with a mist sprayer kit combo. The Propel Mister is an accessory that can cool down your family's jumping experience. Propel also makes the Propel "Stormrider" anchor kit set. The kit comes with three galvanized steel stakes along with straps. This kit is to anchor your Propel Trampoline to the ground for safe jumping and in the event of bad weather.
Final Word about the Brand
Propel Trampolines provide an affordable and safe take on the traditional backyard trampoline. These are great for either indoors or outdoors and for the whole family! And while their performance is inferior to that of a Vuly Trampoline, their quality doesn't quite match that of a Magic Circle Trampoline, and their safety features really don't match up to a JumpSport Trampoline, the Propel trampoline wins on price – an important factor for many trampoline shoppers.
https://www.airtrampolines.com/wp-content/uploads/2016/10/Propel-Thumbnail.jpg
500
500
AirT Staff
https://www.airtrampolines.com/wp-content/uploads/2016/10/logo_transparent_background-e1476323542860.png
AirT Staff
2016-12-18 23:15:09
2016-12-18 23:16:09
Brand Profile - Propel Trampolines