Did you know that most Americans say that pain is a normal condition; believing that it is a part of life and just a normal consequence of aging?
In fact, over 25% of Americans experience chronic pain in their neck. Whether it is caused by a car accident, sleeping in the wrong position, holding your phone between your head and neck, heavy lifting, or just bad posture, the good news about this pesky pain is that it can be cured.
Just follow these simple stretches to help provide relief and to help prevent neck pains.
1.  The Bridge Pose
Hold this pose for 20 seconds, rest for 20 seconds, then hold again for 20 seconds. If you want a deeper stretch in the neck, just lift the hips up higher.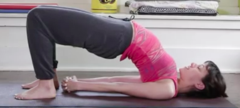 2. Threading the Needle Pose
Hold this pose for 30 seconds then switch to the opposite side. I loved this pose from the first time I did it. I felt such an awesome stretch. This is one of the best stretches for your neck and shoulders.

3. The Frog Pose
Hold for 1 minute, allowing your neck to relax.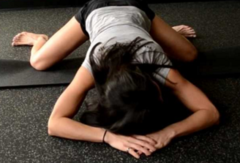 4. Upward Facing Plank Pose
Hold for 1 minute then relax.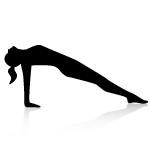 5. Seated Neck Release
I always like to finish my exercises with a nice relaxing easy stretch like this to cool down. Hold this pose for 30 seconds on the right side, then release, move your head slowly back and forth like you nodding yes, then hold for 30 seconds on the left side.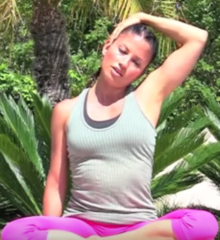 Doing these 5 exercises daily will help alleviate and prevent neck pain. Best of luck!
https://www.airtrampolines.com/wp-content/uploads/2016/10/bridge-pose.png
108
240
AirT Staff
https://www.airtrampolines.com/wp-content/uploads/2016/10/logo_transparent_background-e1476323542860.png
AirT Staff
2016-04-28 07:00:35
2016-10-16 15:49:52
5 Stretches in 5 Minutes for Total Neck Pain Relief