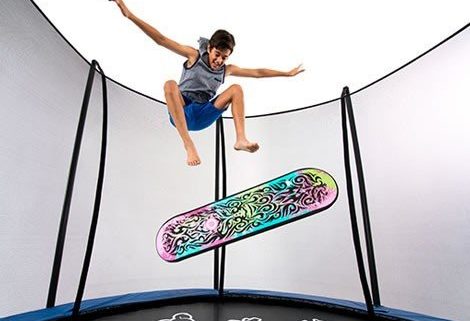 Trampoline Accessories
Adding trampoline accessories enhances the fun and adventure of owning a trampoline. One of the latest adventures in trampoline accessories is the Vuly Skate Deck. We have all seen the blooper videos of skate boarders bouncing head over heals and bounding off of concrete while attempting to learn new tricks. With the Vuly Skate Deck you can practice new tricks on the your trampoline safely bouncing of the mat instead of scraping along the concrete deck of a skate park. The skate deck takes the place of the skate board and you can practice for hours without injury.
Snowboard
The skate deck also takes the place of the snowboard. Imagine the practice time and fun doing tricks using the skate deck in the summer and fall run up to winter snow boarding. Using the trampoline for practice keeps you in shape while you hone your snow boarding skills for winter snow.
Basket Ball Net Accessory
The basket ball net and hoop as a trampoline accessory is a must. The thrill of dunking the ball into the hoop while flying across the make believe court is beyond exhilarating. The  basketball net will add hours to the entertainment and exerciser value of any backyard trampoline.
Trampoline Enclosures
Trampoline enclosures start with the safety net. It is recommended that all back yard recreational trampolines include the safety net around the exterior of the trampoline. The safety reduces the opportunity for injury by sending the jumper back to the middle of the trampoline instead of falling over the side. The next part of the enclosure can be a roof over the top. For small children this can even be used while jumping. It also functions to keep the rain off of the mat. For older children who want a tent to sleep out side on summer night the roof is perfect to keep the morning dew of the sleeping bags. In the case of a tent many enclosures include walls to go around the tent make this the perfect club house.
https://www.airtrampolines.com/wp-content/uploads/2016/10/Vuly-Skate-Deck.jpg
350
470
Brent Coles
https://www.airtrampolines.com/wp-content/uploads/2016/10/logo_transparent_background-e1476323542860.png
Brent Coles
2017-04-04 02:46:18
2017-04-04 02:46:18
Favorite Trampoline Accessories Add to the Fun and Excitement of the Backyard Trampoline