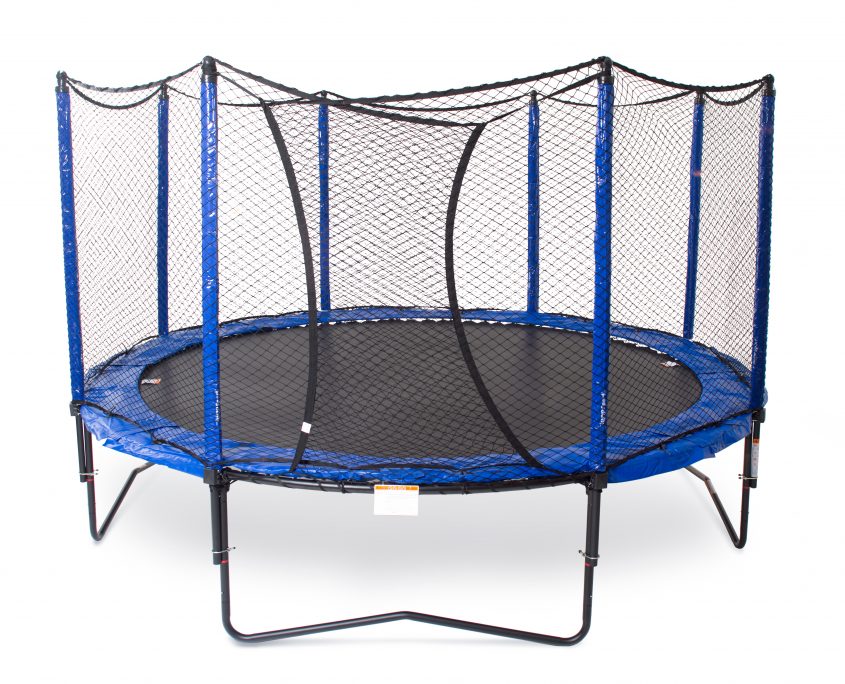 1
JumpSport's®  "DD" Sure-Lok™ frame system keeps the trampoline frame from twisting and deforming
2
Soft, Extra-Stretch™ coil springs measure 7 inches in length
3
JumpSport patented overlapping door so kids will never forget to close it
4
UV and water resistant thick pads fully cover the springs and top frame
5
Rated for up to 200 lbs, means kids can crash into the net without tipping the trampoline over
JumpSport 14' SoftBounce Trampoline with Enclosure
JumpSport® (R) is synonymous with safety. The company is one of the founding members of the US Consumer Product Safety Commission, and is one of the first companies to sell the now industry standard safety net enclosure. Safety is top-of-mind in every aspect of JumpSport designed trampolines, and that is no different with its 14ft SoftBounce Trampoline.
The SoftBounce™ trampoline comes standard with a blue, 1 inch frame cover pad, safety net enclosure rated for up to 200 lbs, Double-fail-safe™ back up net support system, overlapping entry door, and cold rolled steel frame with "DD" Sure-Lok™ frame system.
The jump mat is 113 square feet in size and beautifully connects to the 14 feet diameter frame with 80, high-quality 7 inch springs . The mat comes with a UV shield and 10 rows of stitching compared to comparable products with no UV shield and 4 rows of stitching.
JumpSport offers a 10 year, prorated warranty on the frame and five years on the springs and jump mat fabric. Protect, excite, and exercise the whole family with the SoftBounce trampoline by JumpSport.