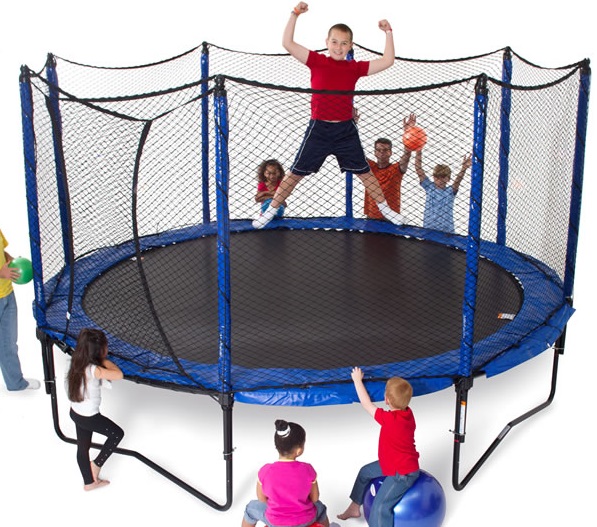 1
The 12ft StagedBounce trampoline comes with "DD" Sure-Lok™ frame system keeps the trampoline frame from twisting and deforming
2
Soft, Extra-Stretch™ coil springs measure 8.5 inches in length
3
The triple-fail-safe design provides piece of mind to parents and grandparents alike
4
UV and water resistant thick pads fully cover the springs and top frame
5
The enclosure for the 12ft Stagebounce Trampoline is rated for jumpers up to 230 lbs
JumpSport 12' StagedBounce Trampoline with Enclosure
The StagedBounce Trampoline is specially designed so that as your kids grow, so will their bounce. Made by JumpSport, a company known for moving the industry toward safer trampolines, the StagedBounce comes in two sizes, this 12ft model and the larger, 14ft StagedBounce Trampoline.
The 12′ StagedBounce™ trampoline comes standard with a thick, blue frame pad made of closed cell foam and a strong PVC cover. The safety net enclosure is rated for users up to 230 lbs, 30 pounds more than the less expensive 14′ SoftBounce trampoline. The enclosure boasts a triple-fail-safe system including straps and bungees at each pole to keep its precious occupants safely inside the trampoline.
The high-quality jump mat and frame are connected with high-performance 8.5 inch springs specially engineered to provide greater bounce for your big kids, while softening the bounce for your little ones.
JumpSport offers a 10 year, prorated warranty on the frame and five years on the springs and jump mat fabric. Buy a trampoline that your kids can safely grow up with, buy the StagedBounce trampoline today.